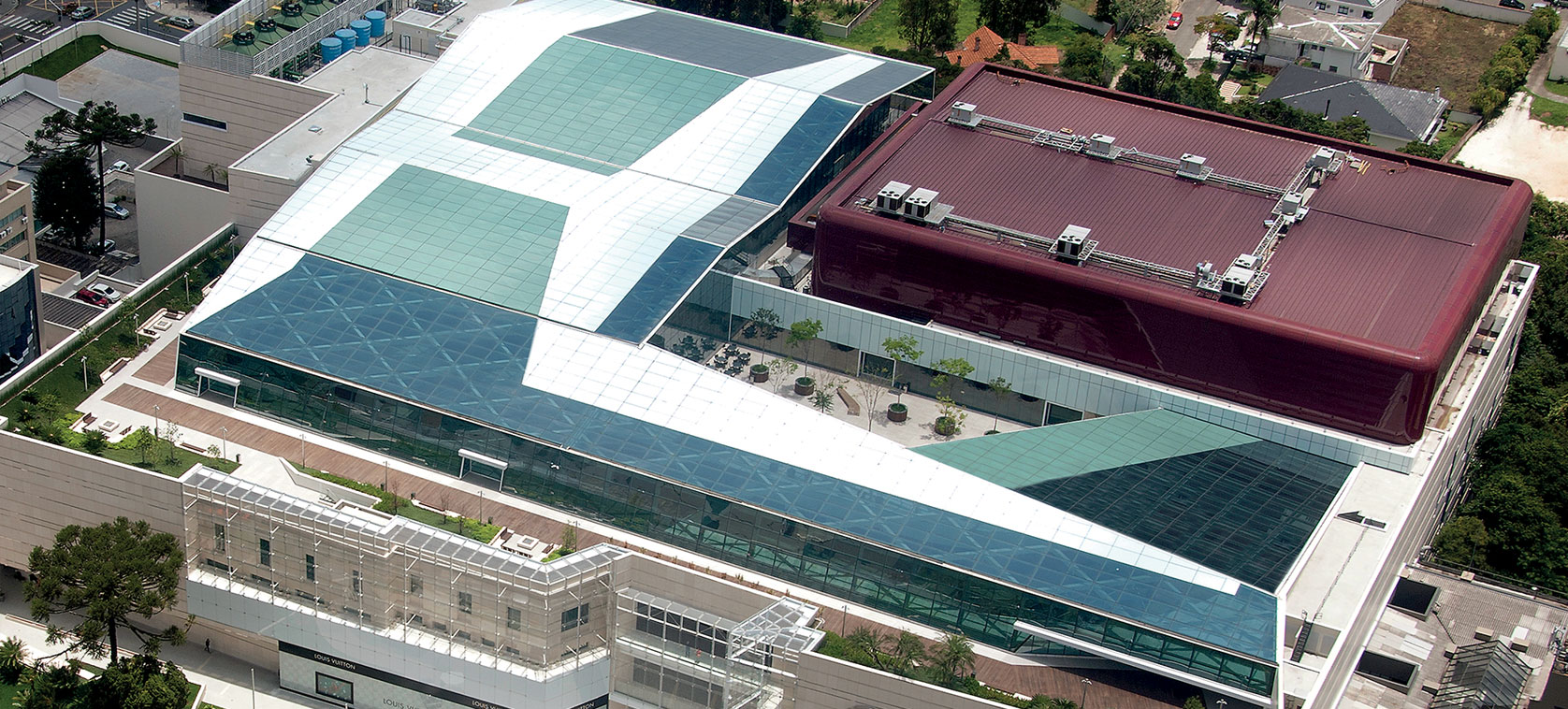 Insulated Glass
When you specify insulating glass, you are choosing the "greenest" solution available in the Brazilian market, and a product that keeps buildings cool in the summer, warm in the winter, and beautiful all year long.
Insulating glazing is known as "Double glazing" because it has at least two glass plies separated by a spacer that forms a sealed chamber. A desiccant is applied within the spacer so as to prevent moisture inside the unit, making insulating glazing an excellent thermal and acoustic insulator.
Insulatto® is GlassecViracon's line of double insulating glazing.
Insulating glass fabricated by GlassecViracon meets the requirements of the Brazilian standard NBR 16015.
Dramatically engage top-line web services vis-a-vis cutting-edge deliverables. Proactively envisioned multimedia based expertise and cross-media growth strategies. Seamlessly visualize quality intellectual capital without superior collaboration and idea-sharing.
Insulating
The most basic insulating glass unit is constructed with two plies of glass separated by a spacer forming a sealed chamber. Its main attribute is to improve thermal performance (U-value) by reducing by approximately 50% the heat transfer to the indoor environment, when compared with a monolithic glass either coated or uncoated.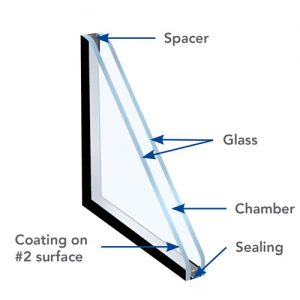 Insulating Laminated
The insulating laminated unit combines the thermal properties of insulating glass with the safety features and acoustic performance oflaminated glass. A perfect choice for facades and coverings that require greater protection against UV rays.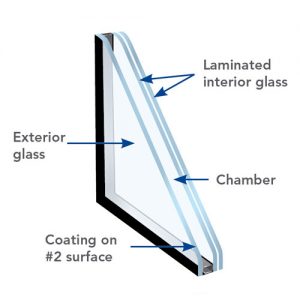 Laminated Insulating
This insulating unit is manufactured with a laminated outboard. It is the ideal product for applications where the outer facade of the building may be subject to additional overload or in regions susceptible to heavy stormsthat require safety glass.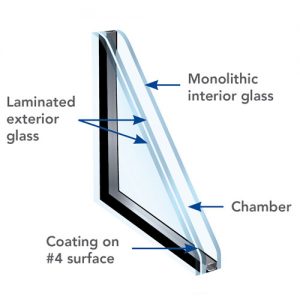 Double Laminated Insulating
This product is manufactured with laminated glass plies in both the inner and outer boards of the insulatingunit. It is the ideal configuration for applications where the best acoustic performance isrequired, such as regions with intense air and road traffic, in addition this product meets the requirements for safety glass.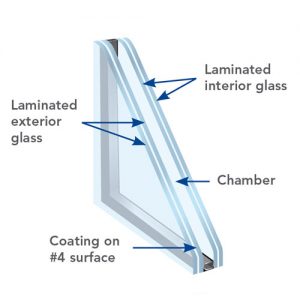 Triple Insulating
This triple insulating unit is built with three glass plies intercalated with two hermetically sealed chambers. This solution is mostly utilized when applications with low U-value are required.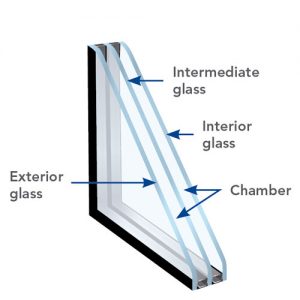 Components
Insulating units have several components. When specifying this product, it is important to bear in mind the performance requirementsin order to choose the appropriate components to suit your needs.
Nomenclature
GlassecViracon utilizes an objective nomenclature to identify each of its products, describing them according to five features: name of product, product type, aspect, thickness, and product code. The code GA designates regular standard products, while the code GL is used for customized products. Thus, you can easily find and select the glazing product that you want to specify, together with its respective performance details.
Exampleof commercial description of a product
| INSULATING | SOLAR CONTROL | BLUE | 26 MM | GA 120 |
| --- | --- | --- | --- | --- |
| Product | Type | Aspect | Thickness | Product Code |
ENERGY PERFORMANCE DETAILS
The following details are available for all our products.
| | |
| --- | --- |
| TL = | Light Transmittance |
| RLe = | External Light Reflectance |
| RLi = | Internal Light Reflectance |
| TE = | Energy Transmittance |
| RE = | Energy Reflectance |
| Abs = | Solar Energy Absorptance |
| FS = | Fator Solar |
| CS = | Shading Coefficient |
| Valor U = | VU-Value |
| IS = | Selectivity Index |
GLAZING SPECIFICATION
You can specify architectural glass according to criteria such as the glass aesthetic or the glass performance. On this website when you search for glass, you must select the information in five fields :
configuration: insulating, laminated or monolithic.
glass type: clear (colorless), tinted (colored) or solar control.
silk-screen: Yes or No..
aesthetic: clear (colorless), green, dark green, grey, bronze, blue, extra clear.
performance: LT (light transmittance) and the SF (solar factor).
ISO 9001
GlassecViracon confers a high quality standard to all of its processes and products. In 2002 we received our first ISO 9001 certification, and went through recertification audits in 2009 and 2014. The ISO 9001 standard covers all our operations – planning, purchasing, manufacturing, transportation, sales, customer service and administrative services –to ensure the highest level of quality toour services and solutions.
Laboratory
We are the only company in the Brazilian market that has a Laboratoryof Quality Control where testing is carried out to ensure the uniformity of colors andshades of our glazing products. Every batch of raw-material undergoesspectrophotometry tests, besides other specific tests according to the product's characteristics.
On the Following video you will see:
See how spectrophotometry test works.
Check the equalization process of double insulating glass.
Learn what the GV Quality Seal is all about.
Get to know the quality guidelines followed by our employees.
Technical Standards
The products fabricated by GlassecViracon meet the standards of the Brazilian Technical Standards Association – ABNT — Associação Brasileira de Normas Técnicas.
| | |
| --- | --- |
| NBR 7199:2016 | Glazing project, execution and applications in construction. |
| NBR 14698:2001 | Glass in building construction – Specification. |
| NBR 14697:2001 | Tempered glass. |
| NBR 16023:2011 | Laminated glass. |
| NBR 16015:2012 | Coated control glass – Requirements, ratings and test methods. |
| NBR 16673:2018 | Insulating glass – Features, requirements and test methods. |
Trademarks
Glassec® is a trademark of GlassecViracon.
Insulatto® is the trademark of GlassecViracon's double insulating glazing.
GlassecViracon™ is the trademark of GlassecViracon.