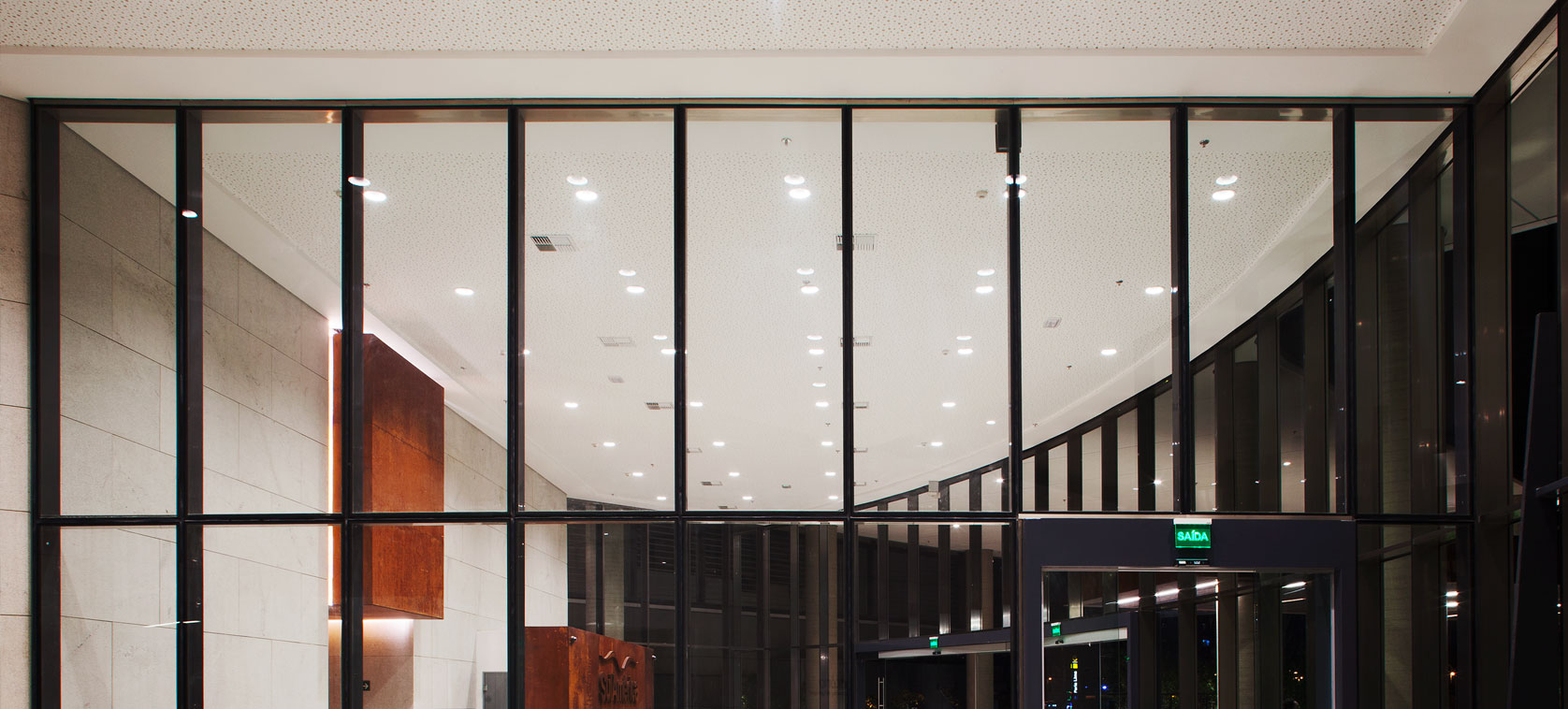 Laminated Glass
High strength and performance with beauty and versatility, these are the characteristics of the laminated safety glass manufactured by GlassecViracon.
A laminated unit is composed of two or more glass lites joined by a PVB interlayer that prevents the glass from falling out of the opening in the event of breakage. This feature reduces the risk of bodily injury and property damage, in addition to maintaining a closed façade.
Laminated glazing is ideal for applications requiring different levels of acoustic performance and safety. Additionally, it offers greater protection against UV rays and broad aesthetic possibilities with the selection of colors and varying PVB opacity.
laminated glass fabricated by GlassecViracon meets the requirements of the Brazilian standards NBR 11706 and NBR 14697.
Laminated
Simple laminated glass consists of two glass lites intercalated with PVB and is widely used in facades and balustrades.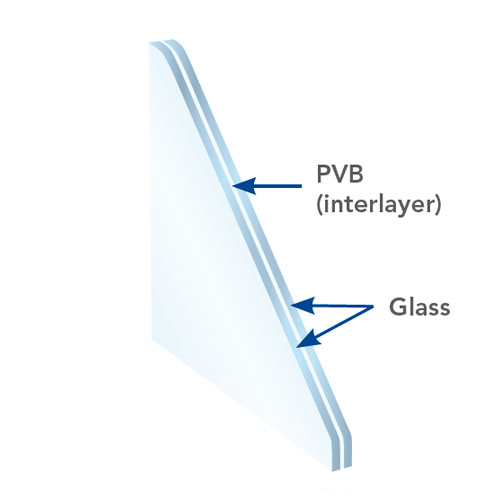 Multi Laminated Glass
Multi-laminatedglass is manufactured with two or more glass lites held together by one or more interlayers, which provides the product with a high level of safety. Also known as anti-vandalism glass, it is suited for environments that require greater protection, such as banks, storefronts and guardhouses.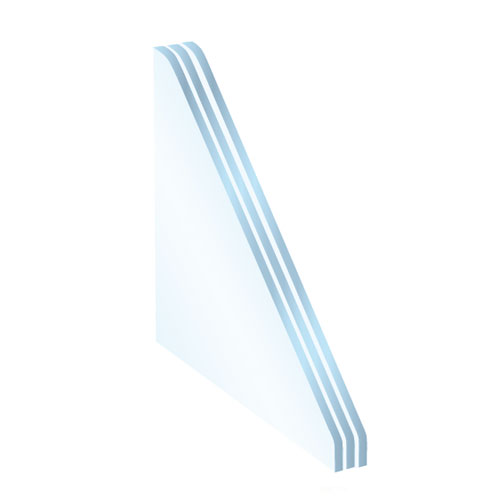 Nomenclature
GlassecViracon utilizes an objective nomenclature to identify each of its products, describing them according to five features: name of product, product type, aspect, thickness, and product code. The code GA designates regular standard products, while the code GL is used for customized products. Thus, you can easily find and select the glazing product that you want to specificate, together with its respective performance details.
Example of commercial description of a product
| INSULATING | SOLAR CONTROL | BLUE | 26 MM | GA 120 |
| --- | --- | --- | --- | --- |
| Product | Type | Aspect | Thickness | Product Code |
ENERGY PERFORMANCE DETAILS
The following details are available for all our products.
| | |
| --- | --- |
| TL = | Light Transmittance |
| RLe = | External Light Reflectance |
| RLi = | Internal Light Reflectance |
| TE = | Energy Transmittance |
| RE = | Energy Reflectance |
| Abs = | Solar Energy Absorptance |
| FS = | Solar Factor |
| CS = | Shading Coefficient |
| Valor U = | VU-value |
| IS = | Selectivity Index |
GLAZING SPECIFICATION
You can specify architectural glass according to criteria such as the glass aesthetic or the glass performance. On this website when you search for glass, you must select the information in five fields :
CONFIGURATION: insulating, laminated or monolithic.
GLASS TYPE: clear (colorless), tinted (colored) or solar control.
SILK-SCREEN: Yes or No.
AESTHETIC: clear (colorless), green, dark green, grey, bronze, blue, extra clear.
PERFORMANCE: LT (light transmittance) and the SF (solar factor).
ISO 9001
GlassecViracon confers a high quality standard to all of its processes and products. In 2002 we received our first ISO 9001 certification, and went through recertification audits in 2009 and 2014. The ISO 9001 standard covers all our operations – planning, purchasing, manufacturing, transportation, sales, customer service and administrative services –to ensure the highest level of quality toour services and solutions.
Laboratory
We are the only company in the Brazilian market that has a Laboratoryof Quality Control where testing is carried out to ensure the uniformity of colors andshades of our glazing products. Every batch of raw-material undergoesspectrophotometry tests, besides other specific tests according to the product's characteristics.
On the Following video you will see:
See how spectrophotometry test works.
Check the equalization process of double insulating glass.
Learn what the GV Quality Seal is all about.
Get to know the quality guidelines followed by our employees.
Technical Standards
The products fabricated by GlassecViracon meet the standards of the Brazilian Technical Standards Association – ABNT — Associação Brasileira de Normas Técnicas.
| | |
| --- | --- |
| NBR 7199:2016 | Glazing project, execution and applications in construction. |
| NBR 14698:2001 | Glass in building construction – Specification |
| NBR 14697:2001 | Tempered glass |
| NBR 16023:2011 | Laminated glass |
| NBR 16015:2012 | Coated control glass – Requirements, ratings and test methods |
| NBR 16673:2018 | Insulating glass – Features, requirements and test methods. |
Trademarks -
Glassec® is a trademark of GlassecViracon.
Insulatto® is the trademark of GlassecViracon's double insulating glazing.
GlassecViracon™ is the trademark of GlassecViracon.